We're excited to announce that Airtame supports Miracast with firmware update 3.9, giving Android and Windows enthusiasts a new way to present wirelessly.
A streamlined solution for Microsoft environments
Today's release of firmware 3.9 brings Android and Windows users another easy, secure way to present wirelessly. With Miracast, presenters can skip running or downloading the desktop app and instead rely on the screen sharing that's already built into their personal devices. Miracast is a screen sharing protocol that does not rely on your local network, as a direct connection is instead created between the Airtame 2 device and your smartphone, tablet or computer.
Miracast is particularly useful to two groups: 1) guest presenters with "locked down" computers, and 2) schools and enterprises that are Microsoft exclusive. The former group will be able to present when IT restrictions make it impossible to run the guest version of the Airtame desktop app which requires neither installation nor admin rights. The latter group will reap magnified benefits with the ease of use and network-independence that scales across the entire organization.
While Android users have had the possibility to present wirelessly with Google Cast, Miracast offers an alternative with the added bonus of pin code support.
Simultaneous improvements to the desktop app
Having shared the exciting news about Miracast, it's equally important to note that the Airtame desktop app is here to stay. App version 4.0 is the result of extensive user testing. The design improvements, including how the notification bar is minimized, the size of the buttons, and the discovery of Airtame devices, all make screen sharing that much more intuitive.
To learn more about app 4.0, check out the blog post that goes through all of the changes and the design thinking behind them.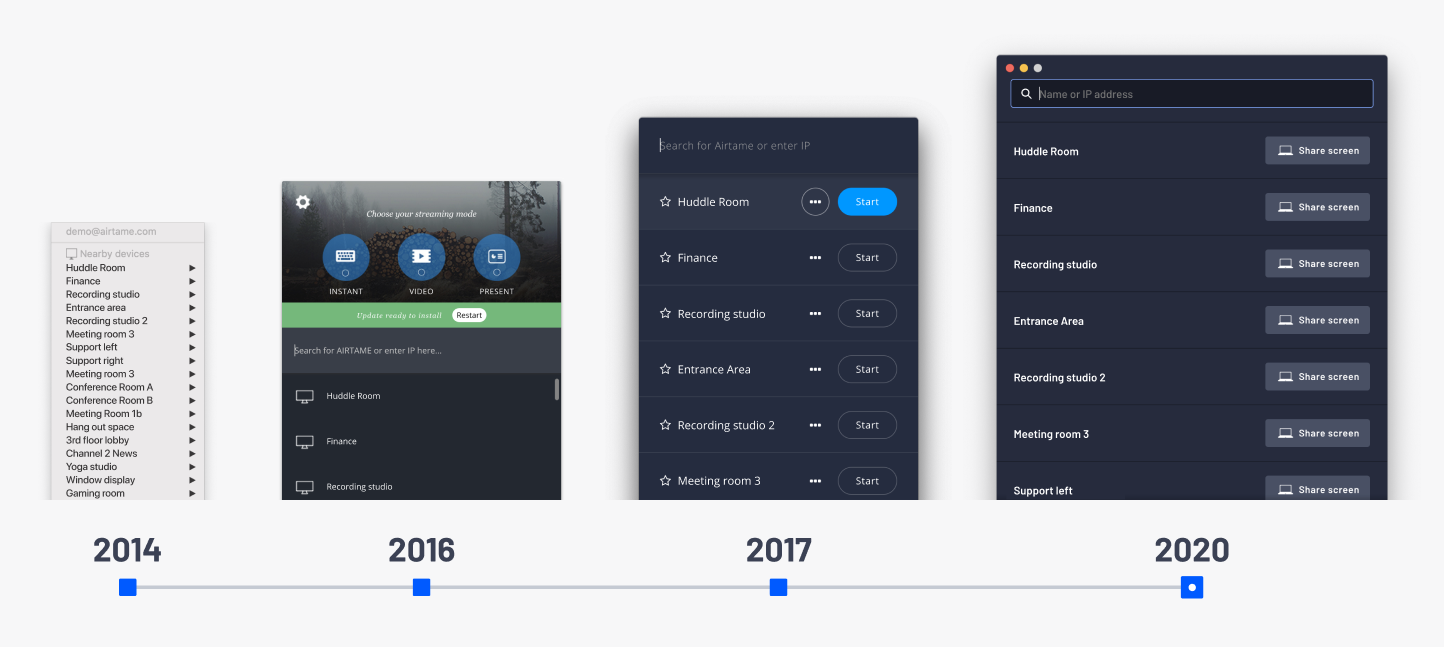 Previous update: Google Cast support is out with firmware 3.8
Date: February 18th, 2020
Expanding connectivity
Google Cast functionality is officially out of Beta! 
If you use an Android mobile device or the Chrome browser on your computer, Google Cast gives you the option to share your screen without needing to install an app. To test out the new connectivity, make sure your Airtame 2 is updated to firmware version 3.8.0 and enable Google Cast through your Airtame Cloud account. 
New powering and digital signage options
The firmware update also reflects new possibilities with Airtame Cloud Plus. 
To save energy, you can now schedule Airtame 2 to power your screens on and off at specific times of the day. This works with screens that have been programmed to power off whenever there is no input signal from any of its ports.
Playlists is another new way to manage screens. You can use Playlists to combine different digital signage apps, including slide decks, image galleries, and online videos to create a curated carousel that will inform and inspire. 
If you're using Airtame, login to the cloud to test this all out! 
If you're not a customer yet, reach out to our team to arrange for a demo.
Previous update: How Airtame 2 is getting even smarter
Date: October 24th, 2019
With firmware update 3.7.0, the LED on Airtame 2 now turns blue when a presenter is connected. With consumers opting for intuitive and sleek designs, there's no reason why B2B products shouldn't follow suit. That's why we've made Airtame 2 even smarter.
Interactive streaming
As of firmware update 3.7.0, the LED (Light Emitting Diode) on the face of Airtame 2 changes color depending on what's going on.
The only colors that the everyday user will see are white (when the device is ready) and blue (when a presenter is connected).
The other colors which are relevant for IT administrators to know are: solid green (new device ready to be set up), flashing green (updating), orange (network reset), and purple (factory reset).
The main benefit of this update is to reassure the presenter that everything is working. Blue light on = nothing to worry about. When someone stops presenting, the LED goes back to white, signaling to the next presenter that they're welcome to get started.
Encouraging a smarter setup
You won't be able to see the LED if the Airtame 2 is hidden behind a display.
Having the Airtame 2 secured next to the display (instead of behind it) has two benefits. First, everyday presenters will be able to see what's going on based on what the LED is showing. Second, the WiFi signal strength will be much better, optimizing presentation quality.
It's up to customers how they prefer to install the device, and for testing purposes, it makes sense to use an adjustable magnetic connection.
That said, we hope that the interactive LED will help to encourage a physical setup that has aesthetic as well as functional benefits.
.